Inalsa Wonder Maxie Plus V2 700-Watt Food Processor for Rs. 4,999 @ Amazon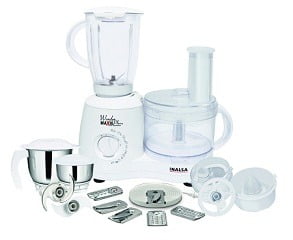 About Product:
While using Food processor portion , keep the lid on Mixer Side in close position, While using Mixer portion, even processing bowl Food processor must be locked properly. Food Processor will not work if Processing Bowl of Food Processor is not locked properly, Never use blending jar & processing jar together
6 segmented functional segmented cutters, Overload protector for motor safety, Stainless steel 304 jar blades, Thermocol packing
Warranty: 5 years on motor and 2 years on product
Power: 700 watts; Operating Voltage: 220-240 volts
Includes: Food Processor, Processing bowl, Bowl cover, Food pusher, Blender jar with lid (1.5 liters), Dry grinder with lid (1 liter), Chutney jar with lid (0.4 liters), 6 Segmented cutters, Cutter disc, Stem rod, Whisking disc, Chopper cutter, Kneading blade, Centrifugal juicer assembly,
Citrus juicer assembly, Spatula, Instruction manual, Warranty card and Customer care list
Post Purchase Demo of Food Processor is available in select cities of India . Please call Inalsa Appliances 0120-4016200 to confirm the availability of this facility in your city.
Price Comparison:
How to buy Inalsa Wonder Maxie Plus V2 700-Watt Food Processor:
Click Here to visit the deal Page
Add the product in Cart
Click "Place Order" button
Login your account if already registered else get registered
Enter your Shipping & Billing Address
Rest Follow the instructions & make the balance payment
Free Shipping on Order Value of Rs.599 or above else Rs.50