Steal Deal: Canon CS100 Connect Station worth Rs.24,299 for Rs.1,999 – Flipkart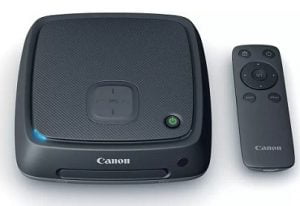 The Connect Station CS100 is a photo storage system for still photos and movies with a 1-TB built-in hard disk which supports the following functions: – (a). Importing still images and movies via NFC*1/Wi-Fi*1/USB*2/SD*3/CF*3/Smart Devices*4/PC*4. (b). Viewing imported images. (c). Sharing images via the Internet. (d). Printing images using a PictBridge (wireless LAN) compatible printer. (e). Copying images to a memory card. (f). Backing up images to an external hard disk.
Up to 1 TB of Storage
Documenting life has become so easy that photos and videos tend to accumulate quickly, filling cameras, mobile devices and PCs to capacity and slowing their performance. With virtually a terabyte (about 1,000 GB) of storage dedicated exclusively to photos and video with the capacity for approximately 150,000 photos or approximately 70 hours of video content*, the Canon Connect Station CS100 is a practical long-term solution to your image storage needs.
NFC and Wi-Fi® Connectivity
The Canon Connect Station CS100 makes wireless transfer of your photos and videos easy and convenient. Simply tap an NFC-equipped* Canon camera or camcorder to the Connect Station CS100 to automatically import photos and videos. For easy transfer from other compatible cameras and camcorders, a USB connection** and SD/CF card slots are also available.
Connect to Your HDTV
Sharing photos and videos is fun anytime, and especially at family events, but passing around a camera or smartphone, or gathering around a tablet or PC isn't ideal. The Canon Connect Station CS100 connects to your HDTV with an HDMI cable, so you and your family can sit comfortably in front of your HDTV as you show your photos and video in crisp, clear Full HD. Your full resolution photos are breathtaking on a big screen, and (unlike with some devices) even the high bit-rate videos play smoothly. By giving your photos and videos a seamless pathway from your Canon cameras and camcorders to your HDTV, the Connect Station CS100 provides your family a new way to relive memories and interact with today's imaging technologies. Control is easy with the included Remote Control CS-RC1.
User-Friendly Menus
With the Canon Connect Station CS100, you can finally have all your photos and videos in one central location, organized for easy retrieval. The Connect Station CS100 automatically sorts files by date (month/year) or shooting device. Simple menus make it easy to create albums as you like, so you'll always be able to access the photos or videos you want.
How to buy Canon CS100 Connect Station:
Click Here to visit the offer page
Add / Combine the product in Cart
Click "Place Order" button
Login your account if already registered else get registered
Enter your Shipping & Billing Address
Rest Follow the instructions & make the balance payment
Free Home Delivery on Order above Rs.500 else Rs.40 extra