Flipkart National Shopping Days – Upto 80% Discount on Men's & Women's Fashion Wear + Extra 10% off with ICICI Debit / Credit Card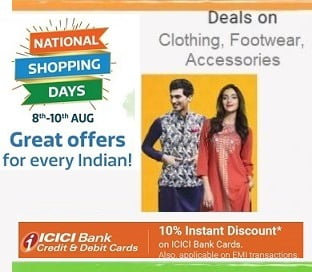 Flipkart National Shopping Days: ICICI Debit / Credit Card Offer Highlights
Extra 10% discount will be awarded to ICICI Debit / Credit Card holders at the time of making the payment. The offer is also applicable on EMI transactions.
Add on cards will be treated as separate cards.
The minimum cart amount to avail discount is Rs. 4,999 | The maximum discount per card is Rs.1,500.
The Offer is applicable on All Sellers on Flipkart.com, m.flipkart.com & Flipkart's Mobile Application.
There is no limit on number of transactions. However, you can avail upto a maximum cashback of INR 1500 per card.
How to participate in Flipkart National Shopping Days – Upto 80% Discount on Men's & Women's Fashion Wear + Extra 10% off with ICICI Debit / Credit Card:
Click Here to visit the Offer Page for Men's Fashion | Women's Fashion | Kids Fashion.
Add the Product in Cart.
After that Proceed to check out.
Login your account if already member otherwise create a new account.
Update & Enter Shipping Address.
Choose Payment method & make the payment.
Free Shipping on order above Rs.499 else Rs.40.
MEN'S FASHION ACCESSORIES:
20-80% Off on Watches – Fossil, Timex & more
Watches under Rs.999 – Timex, Maxima & more
Watches under Rs.499 – Lois Caron, Abrexo & more
10-30% off on Casio Watches
30-80% Off on Sunglasses – Fastrack, IDEE & more
Sunglasses under Rs.999 – Fastrack, Chemistry & more
Sunglases under Rs.499 – Provogue, Metronaut & more
Backpacks under Rs.999- Skybags, AT, Wildcraft
Min. 50% Off on Frames
50-80% Off on Trolley Bags
50-80% Off on Backpacks & Travel bags
Wallets under Rs.499- Provogue, Levi's…
Belts under Rs.499- Newport, Provogue…
Min. 50% on Skybags Bags
Min 50% Off on American Tourister Bags
20-60% Off on Titan Watches
20-40% Off on Fastrack Watches
MEN'S CLOTHING:
50-80% Off on Top Men's Clothing Brands
Min 60% Off on Men's Clothing- Wrangler, Lee, Arrow & More
Upto 60% Off on Sports Clothing
Shirts & T-Shirts under Rs.799
Jeans & Trousers under Rs. 899
Min 55% Off on Metronaut
Casual wear under Rs.699
Innerwear under Rs. 599
Clothing Accessories under Rs.499
Min 50% Off on Ethnic Wear
MEN'S FOOTWEAR:
Min 50-80% Off on Men's Casual Shoes Puma, UCB, Vans & more
Min 40-80% Off on Men's Sports Shoes NIke, Adidas, Reebok
Min 50% Off on Formal Shoes , Red tape, Provogue & more
Under 399 Sandals & Slippers, Sparx, Stylar & more
Under 799 Men's Footwear – Sparx, Lotto & more
Under 799 Casual Shoes, Provogue, Kraasa & more
Under 799 Sports Shoes , Provogue, Oricum & more
Under 999 Formal Shoes for Men – Bata, Provogue & more
Upto 70% Off on Exclusive Footwear Collection – Peter England, Indigo Nation & more
Upto 80% Off on Men's Footwear – Puma, UCB, Red tape & more
Min 50% Off on Casual Shoes, UCB, Fila, Provogue & more
Under 799, Popular Brands, Sparx, Provogue Lotto & more
Under 799, Loafers, Sneakers & more
Starting from Rs.499 Men's Exclusive Footwear Club
Min.60% Off on Lotto, Puma, Provogue & more
Starting from Rs.299 Shoes, Sandals, Slippers & more
Min 55% on Casual, Formal Shoes
Starting @ 249, Men's Footwear
WOMEN'S CLOTHING:
Forever 21 Clothing
Flying Machine Flat 60% Off
W Under Rs.699
BIBA Under 799
Aurelia Under 499
Libas Flat 70% Off
Harpa Flat 70% Off
Vero Moda Under Rs.799
Provogue Flat 60% Off
Global Desi Flat 60% Off
Levi's Flat 50% Off
Lee Flat 50% Off
Clovia 50-70% Off
Puma Min 50% Off
Tops Under Rs. 399
Kurti Under Rs. 499
Sarees Under Rs.599
WOMEN'S FOOTWEAR:
Women's Bellies, Under 899
Min 30% off on Women's Casual Shoes
Min 40% off on Premium Brands
Under 799 on Women's Flats
Min 50% Off on Women's Sandals, Shoes & more
Under 499 on Women's Slippers & Flipflops
Under 999 on Women's Flipkart Exclusives
Min 50% off on Puma, Catwalk & more
Min 60% off on Carlton London
Min 60% off on Lavie
Min 40% off on Cara Mia
Min 60% off on Lavie, Catwalk & more
Min 50% off on Puma
Under 699 on Women's Sandals
WOMEN'S ACCESSORIES:
Minimum 40% Off on Women's Bags
Minimum 50% Off on Handbags, Satchels & More
Minimum 60% Off on Sling Bags, Totes & More
Minimum 70% Off on Women's Bags
Under Rs.999 Handbags & more
Under Rs.699 Wallets & Clutches
Under Rs.499 Wallets & Clutches
Minimum 30% Off on Sling Bags
Minimum 60% Off on Clutches
Under Rs.999 Totes
Minimum 40% Off on Satchels
Under Rs.1999 Handbags
Minimum 50% Off on Shoulder Bags
20-80% Off on Trendy Backpacks
Up to 80% Off Exclusive Styles Of Women's Bags
Up to 70% Off Best Selling Styles Of Women's Bags
Minimum 60% Off on Fashion Jewellery
Under Rs.699 Fashion Jewellery
Minimum 50% Off on Divastri Jewellery
Under Rs.499 Earrings
20-80% Off on Silver Jewellery
Minimum 70% Off on Jewellery Sets
Minimum 50% Off on Bangals, Bracelets & more
Under Rs.799 Pendants
Under Rs.599 Rings