"MYNTRA TREASURE HUNT – CRORES TO WON" Contest : Play Game to Win Prizes (Going Live on 00.00 Hrs 27th March'14)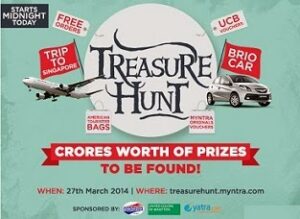 An online "Myntra Treasure Hunt – Crores To Be Won" Contest will be live and valid for all the registered end customers/participants of myntra.com, permanently residing in India (excluding Tamil Nadu), at 00.00 Hrs on 27th March 2014 with some assured prizes e.g. discount vouchers, American Tourister Bags, International Holiday trips etc. Mega prize is Honda Brio Car on the basis of Lucky Draw.
This is an online Contest, which shall take place on the online domain url: treasurehunt.myntra.com on March 27th'14 (the Contest Period). The Contest Period is for one day and ends on March 27, 2014 midnight. The Contest is subject to change at the absolute discretion of Myntra.
Offer Page  | Terms and Conditions  | How to Play | Myntra
How to Play "MYNTRA TREASURE HUNT – CRORES TO BE WON" Contest
You ought to have a registered Myntra id to play this game. No id, no treasure!
You can play this game on 27th. Remember the date. 27th March only.
The game has 7 levels, with one simple question in each level.
Each question has 4 options. You just have to pick the right one.
After that you will be asked to enter a code from Myntra.com. We'll guide you to the relevant page, where the code will be highlighted in yellow. There's no way you can miss it!
Every right answer (along with the code) can get you a prize.
Even if you share it after finishing just one level, you will be eligible to win the Brio.
And, if after completing the entire game, you don't share your game's score, you will not be eligible to win the amazing Honda Brio.
If you can't finish the game in one go, don't worry. You can save it, and come back to continue from where you left off.
If you answer incorrectly, you will have to re-start from level 1. Sorry!