Nasher Miles Tokyo Collection – Hardsided Trolly Suitcases 67% off with Anti-Theft Zip, TSA Lock & Life Time Warranty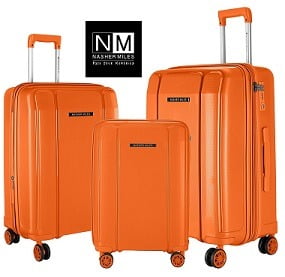 Anti-Theft Zip
The Warrior comes with an anti-theft, double coil zip that tamper-proofs your bag. A ball point pen or any pointy object is enough to tamper with a zip by making a puncture between the teeth of the zip and pulling it open. The double coil zipper offers doubly secure luggage as it cannot be opened by these means.
Premium Material
The bag sports a smart design and has a Poly Propylene (PP) hard shell surface. PP is a type of thermoplastic polymer and the lightest of all the thermoplastic products, making it the ideal material for any lightweight luggage range. It is very resilient and a great choice for travelers who want good protection in as lightweight form as possible. It is scratch-resistant and made to absorb impact by flexing while under stress then popping back to its original shape, eliminating dents and dings while protecting its contents.
Feather Light
For a lightweight bag that glides effortlessly across the airport but can hold a lot of travel gear, consider the Nasher Miles Tokyo luggage. When airports across the world are strictly charging for excess baggage, and luggage is weighed time and again to catch even an extra couple of pounds, the Tokyo bag comes as a blessing for the 'pack it all in' traveler. Lightweight carryon luggage is easier to hoist into the overhead bins and light check-in bags may just avert a post-arrival backache. Weighing just 13.37 kg for a set of 3, The small (20in), medium (24in) and large (28in) luggage weighs 3.32kgs, 4.33kgs and 5.72kgs
TSA Lock
Protecting the contents of our bag and locking it, is important, but with new airport regulations it is difficult to do that and not have your bag returned with broken locks. The TSA lock keeps your luggage protected while following airport norms. The resettable number code for secures your luggage and is the perfect travel companion to any destination. It can be locked and unlocked by the number code and doesn't require any key. This lock allows your luggage to be unlocked and inspected by airport security authorities without any damage. Keys are only available with airport security personnel and are not provided with this suitcase
How to buy Nasher Miles Tokyo Collection – Hardsided Trolly Suitcases 67% off with Anti-Theft Zip, TSA Lock & Life Time Warranty:
Nasher Miles Tokyo Expander Hard-Sided Polypropylene Luggage Set of 2 Orange Trolley Bags (65 & 75 cm) – Rs. 8,999
Nasher Miles Tokyo Expander Hard-Sided Polypropylene Luggage Set of 2 Orange Trolley Bags (55 & 65 cm) – Rs. 7,499
Nasher Miles Tokyo Expander Hard-Sided Polypropylene Luggage Set of 2 Black Trolley Bags (55 & 65 cm) – Rs. 7,499
Nasher Miles Tokyo Expander Hard-Sided Polypropylene Luggage Set of 3 Orange Trolley Bags (55, 65 & 75 cm) – Rs. 11,999
Add the Product in Cart
Click Proceed to check out
Login your account if already member else create a new account at Amazon
Update & Enter Shipping Address
Choose Payment method & make the payment
Free Shipping on order above Rs.499 else Rs.40