Whirlpool Days [16-17 March'19]: Upto 40% Off on Cooling Appliances + Extra 5% off on All Pre-paid Orders @ Flipkart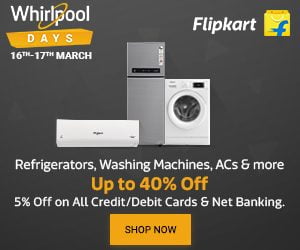 OFFER:
5% Instant Discount with All Debit Cards, Credit Cards, Net Banking & EMI on purchase of selected products under Refrigerators Sold by the

Seller Omnitechretail

on the Platform.
There is no limit on number of transactions. However, you can avail maximum discount of INR 1,000 per card per category.
Offer duration: 16th March 2019 00:00 to 17th March 2019 23:59.
Whirlpool 1.5 Ton 5 Star Inverter AC – Snow White (1.5T 3DCOOL INVERTER 5S-W HT-I/ODU) @ 34999
Whirlpool 0.8 Ton 3 Star Inverter AC – White (0.8T MAGICOOL INVERTER 3S COPR-W-I/ODU, Copper Condenser)@22999
Whirlpool 1.5 Ton 3 Star Inverter AC – White (1.5T Magicool Inverter 3S Copr-W-I, Copper Condenser)@32999
Whirlpool 1 Ton 3 Star Inverter AC – White (1T 3D COOL Inverter 3S COPR, Copper Condenser)@27999
Whirlpool 1 Ton 3 Star Split AC – White (1.0 T MGCL DLX 3S COPR-W-('18)-I/ODU, Copper Condenser) @23999
Whirlpool 1 Ton 5 Star Inverter AC – White (1.0T 3DCOOL INVERTER 5S-W-I/ODU, Aluminium Condenser) @28999
Whirlpool 1 Ton 3 Star Inverter AC – White (1.0T 3D COOL ECO Inverter 3S-W-I/ODU, Aluminium Condenser) @24999
Whirlpool 1 Ton 3 Star Inverter AC – White (1.0T MAGICOOL INVERTER 3S COPR-W-I, Copper Condenser) @26999
Whirlpool 1.5 Ton 3 Star Split AC – White (1.5T MGCL PRM 3S-WHT-I('18)/1.5T MGCL PRM 3S-WHT('18)-ODU)@25999
Whirlpool 6.5 kg Fully Automatic Top Load Washing Machine – Royal Plus series at Just Rs.15240 + Great Exchange Offers and Prepaid Discounts
Whirlpool 6.5 kg Fully Automatic Top Load Washing Machine – Royal Series at Just Rs.13999 + Great Exchange Offers and Prepaid Discounts
Whirlpool 6.2 kg Fully Automatic Top Load Washing Machine at Just Rs.12990 + Great Exchange Offers and Prepaid Discounts
Whirlpool 7 kg Fully Automatic Top Load Washing Machine at Just Rs.15990 + Great Exchange Offers and Prepaid Discounts
Whirlpool 7 kg Semi Automatic Top Load Washing Machine at Just Rs.9240 + Great Exchange Offers and Prepaid Discounts
Whirlpool 7 kg Semi Automatic Top Load Washing Machine at Just Rs.9240 + Great Exchange Offers and Prepaid Discounts
Whirlpool 6.2 kg Semi Automatic Top Load Washing Machine at Just Rs.8890 + Great Exchange Offers and Prepaid Discounts
Whirlpool 7 kg Fully Automatic Top Load Washing Machine at Just Rs.15490 + Great Exchange Offers and Prepaid Discounts
Whirlpool 9.5 kg Semi Automatic Top Load Washing Machine at Just Rs.14490 + Great Exchange Offers and Prepaid Discounts
Whirlpool 6.5 kg Fully Automatic Top Load Washing Machine at Just Rs.13740 + Great Exchange Offers and Prepaid Discounts
Whirlpool 7.5 kg Semi Automatic Top Load Washing Machine at Just Rs.10490 + Great Exchange Offers and Prepaid Discounts
Whirlpool 245 L Frost Free Double Door 2 Star Refrigerator At Just Rs.19240 + Great Exchange Offers + 5% Instant Discount* on All Debit/Credit Cards and NetBanking
Whirlpool 190 L Direct Cool Single Door 3 Star Refrigerator At Just Rs.10990 + Great Exchange Offers + 5% Instant Discount* on All Debit/Credit Cards and NetBanking
Whirlpool 190 L Direct Cool Single Door 3 Star Refrigerator At Just Rs.12490 + Great Exchange Offers + 5% Instant Discount* on All Debit/Credit Cards and NetBanking
Whirlpool 190 L Direct Cool Single Door 3 Star Refrigerator At Just Rs.11740 + Great Exchange Offers + 5% Instant Discount* on All Debit/Credit Cards and NetBanking
Whirlpool 240 L Frost Free Triple Door Refrigerator At Just Rs.23990 + Great Exchange Offers + 5% Instant Discount* on All Debit/Credit Cards and NetBanking
Whirlpool 215 L Direct Cool Single Door 4 Star Refrigerator At Just Rs.16990 + Great Exchange Offers
How to Whirlpool Appliances upto 40% off + Extra 5% off with All Cards & Net Banking:
Click Here to visit the Offer Page
Add the product in Cart
Click "Place Order" button
Login your account if already registered else get registered
Enter your Shipping & Billing Address
Rest Follow the instructions & make the balance payment
Free Shipping on order above Rs.499 else Shipping Charges Rs.40