Amazon Great Indian Festival: Deep Discounted Deals & Offers+10% Extra off with SBI Debit / Credit Card (Sale is Live)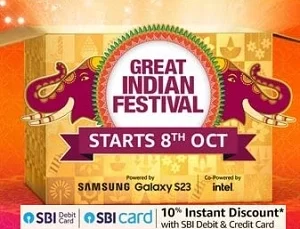 Additional Discount with SBI Debit / Credit Cards: (starts from 7th Oct 23 till 21st Oct'23
)
SBI CREDIT CARD: (Valid on 7th & 8th Oct'23)
10% instant discount with SBI Credit Card on Amazon Great Indian Festival. Offer is valid on Minimum Transaction of Rs.5000 and for Grocery Rs.2500.
Maximum Discount on Mobile Phones is Rs.1250 (Non EMI Purchase) and Rs.1500 (EMI Purchase)
Maximum Discount on All other Category is Rs.1500 (Non EMI Purchase) and Rs.1750 (EMI Purchase)
Maximum Discount on Grocery is Rs.300 (Non EMI Purchase) and Rs.300 (EMI Purchase)
SBI CREDIT CARD: (Valid from 9th to 21st Oct'23)
10% instant discount with SBI Credit Card on Amazon Great Indian Festival. Offer is valid on Minimum Transaction of Rs.5000 and for Grocery Rs.2500.
Maximum Discount on Mobile Phones is Rs.750 (Non EMI Purchase) and Rs.1000 (EMI Purchase)
Maximum Discount on All other Category is Rs.1250 (Non EMI Purchase) and Rs.1500 (EMI Purchase)
Maximum Discount on Grocery is Rs.300 (Non EMI Purchase) and Rs.300 (EMI Purchase)
SBI DEBIT CARD:
10% instant discount with SBI Debit Card on Amazon Great Indian Festival. Offer is valid on Minimum Transaction of Rs.5000 for All Category.
Maximum Discount on All Category is Rs.1000 (Non EMI Purchase). Valid from 7th Oct to 8th Oct'23.
Maximum Discount on All Category is Rs.750 (Non EMI Purchase). Valid from 9th Oct to 21st Oct'23.
How to Get the Deals & Offers at Deep Discounted Price + 10% Discount with SBI Card + EMI Offer:
Visit All Deal Page Here | Mobiles | Laptops | Television | Large Appliances | Air Conditioners | Washing Machine | Refrigerators | Beauty | Camera & Accessories | Fashion & Accessories | Travel Luggage, Bags & Wallets | Computer Accessories | Desktops | Monitors | Footwear | Gift Cards | Health & Personal care | Baby Products | Home & Kitchen | Home Furnishing | Grocery Products | Household Supplies| Books |Sporting Goods | Tablets  | Car & Motorbike Accessories  | For Recommendations Visit here
Then add the product to Cart.
After that, Proceed to checkout.
Login to your account if already registered; otherwise, create a new account.
Update your Shipping & Billing Address.
Finally, Follow the instructions & make the payment.
Shipping is Free on orders above Rs.499 else Rs.40.
In Amazing Offers, Apparel and Shoes, computer accessories, Coupons, Discount and Coupons, Electronic, Health and beauty, Kitchen and Home, Mobile and Accessories, perfumes, Sale, Watches & Eyewear