UPDATED – Amazon's Great Indian Festive Sale #BadeDilWale – (1st Oct to 5th Oct'16)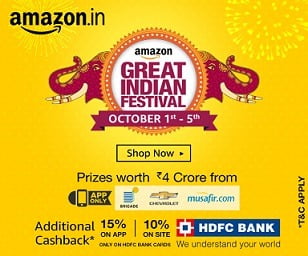 Amazon World leader in e-commerce business (online retailer) running its online business, During festival season they are going to celebrate India's biggest sale from 1st Oct to 5th Oct'16 wherein they offer products at deep discounted price and in addition to this you can also win prizes worth Rs.4 Crores, some additional 10% cashback offers on site & 15% cashback on Amazon app are also there for HDFC Bank account Holders.
 So now its time to spare little time to list out the products you want to buy and keep watching the offers & deals during 1st Oct to 5th Oct'16.
Amazon Great Indian Festival Sale 2016 Deals Features:
5 Days sale starts 1st October to 5th October 2016.
New Deals in every 30 minutes.
Extra 10% or 15% Cashback for HDFC Debit and Credit card users.
Blockbuster Deal stating from 8AM.
Midnight deals starting 12AM night.
Additional Offer on Amazon Great Indian Festival Sale 2016 Deals:
HDFC Bank of India Credit Card: 10% cashback on Rs. 6000 (Upto Rs. 1500) from 1st Oct 2016 to 5th Oct 2016. Additional 5% cashback on app.
HDFC Bank Debit Card: 10% cashback on Rs. 6000 (Upto Rs. 1500) from 1st Oct 2016 to 5th Oct 2016. + Extra 5% cashback (upto Rs.500) in form of reward points.
Rs. 100 Cashback on Rs. 1000 shopping with Amazon Gift Card. Terms and Conditions
KEEP WATCHING OUR WEBSITE DURING 1st Oct'16 to 5th Oct'16 FOR PRODUCT SPECIFIC OFFERS & DEALS