Back to College Offer on Laptops:  Dell (Kit worth Rs.11,298 for Rs.1,699) | HP (Kit worth Rs.7200 for Rs.1499)  | Asus Laptops (Kit worth Rs 8550 for Rs.890)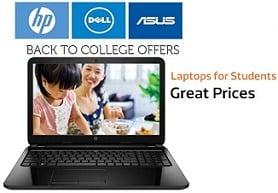 Offer is valid on Select Models. To confirm the applicability of offer, Click on "More Seller" on a particular product page to see the whether availability of offer is there with any of the Seller.
Pay just Rs.1699 & get  Kit worth Rs 11298 for Rs.1699
Offer is valid on select models of Dell Laptops
Offer valid till 30th June 2015.
Dell Back to College offer consists of: Gift Voucher Worth Rs. 3000 from Jabong or Levis, Sennheiser Ear plug, Additional 1 Yr Ltd Hardware Warranty, Secure PC Pack consisting of 1 year Absolute Lojack & 15 months McAfee Security
For offer eligibility, mandatory registration is required on http://dellbacktocollege.com/ as per the Offer Redemption Guidelines.
HP Offer: (Get the following 2 offers with HP Laptops)
Pay just Rs 1499 to avail only Offer 1: 
Additional 2 years Onsite Warranty worth Rs 5999. Conditions Apply.
1 year Burglary & Theft Protection with Reliance General Insurance. Conditions Apply.
1 year McAfee Internet Security Subscription
FREE 3 software – Locate Laptop; Crash Proof; Sys Boost
Pay just Rs 1499 to avail only Offer 2: 
BookMyShow – 12 movie tickets worth max. Rs 3000. Conditions Apply.
FREE – HP X3000 Wireless Mouse worth Rs 789 & HP H2800 Orange Headset worth Rs 1999
FREE 4G/3G Dongle worth max. Rs 1500. Conditions Apply.
*Pay just Rs 2998 to avail both Offer 1 & Offer 2
Pay just Rs 890 & get the Incredible Kit worth Rs 8550 for Rs.890
Batman Mouse with Batman Headphone Mic
eScan Antivirus with 1 year subscription
Additional 2 Years Warranty Extension Pack
How to get the offer:
Visit the offer page for Dell Laptops | HP Laptops | Asus Laptops
Add the product in Cart
Login if you are already registered else get registered if you are New Customer
Click Continue
Select your payment method click continue
Follow the instructions & make payment
Free Shipping on order above Rs.499 else Rs.40 extra (for Seller WS Retails)