Butterfly Smart 750-Watt Mixer Grinder with 4 Jar for Rs.2,599 – Amazon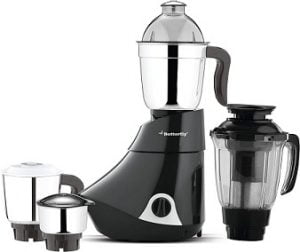 About Product:
750 watts powerful motor

Aesthetically designed

Unbreakable transparent dome lid and flat lids made of polycarbonate material

Special rubber shoes for extra firm grip

Automatic overload cut off facility

Easy to handle and clean

Vacuum rubber shoes for firm grip

This product is inclusive of a juicer. The easy-to-use pusher is an added advantage as it helps to extract more amount of juice. This pusher also acts as an enveloping cap, thereby ensuring zero wastage of juice.

2 year warranty for product

Do not worry if you experience some burning smell when you run your mixer grinder for the 1st time .This is due to the motor varnish getting heated for the 1st time. The problem should not recur in subsequent uses. If it does, please contact Brand Service Centre.
How to buy Butterfly Smart 750-Watt Mixer Grinder with 4 Jar:
Click Here to visit the Offer Page
Add the Product in Cart
Click Proceed to check out
Login your account if already member else create a new account at Amazon
Update & Enter Shipping Address
Select the Payment method & make payment
Free Home Delivery on order above Rs.499 else Rs.40