[Contest] Mentos Circuit Challenge: Win Nokia Lumia,Ipod Nano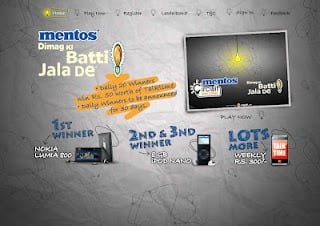 Click here to visit contest page.
Contest Details:
One puzzle each would be released in Level 1, Level 2 & Level 3 daily.
The user can log-in using his Zapak/Facebook ID & entering his Mobile Number with Prepaid/Postpaid option.
The game objective is to get the sum of each circuit & the lobes to be the same.
The sum is prompted in 'Hint'. Please refer tutorial for details.
 
CONTEST PRIZES:
Grand Prize – 1(One) Grand winner – Nokia Lumia 800 
2nd Grand Prize – (Two) 2nd & 3rd Grand winner to get iPods each
5 Weekly Winner win Talk Time worth Rs. 300.
Weekly winners to be announced for 4 weeks.
Daily 20 Winners win Rs. 50 worth of Talktime.
Daily Winners to be announced for 30 days.