[Deal Over]FREE BROWSING : SOCIAL NETWORKING sites for VODAPHONE users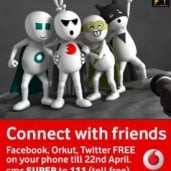 Super weeks is your ticket to 6 weeks of fun and free offers from Vodafone.Every week Vodafone will bring you one offer for its prepaid and postpaid customer which you can enjoy through out the week.
This week's offer  is to "
Connect with friends
" on your Vodafone mobile through
Facebook,Twitter and Orkut. Enjoy unlimited browsing from your vodafone mobile phone and feel the world of social networking.
To activate this free offer, simply sms SUPER to 111 (toll free) .Offer is valid from 12 AM of 16th April to 12 PM of 22nd April
Vodafone Super Week – Terms and Conditions :
(1) The mobile sites mentioned in the communication (FaceBook/Twitter/Orkut) are free when accessed from your Vodafone mobile phone.

(2) Charges could be incurred at your usual tariffs if you visit other websites or due to other issues beyond Vodafone's control, eg :  clicking through from the free site to other websites/applications; sites fetching ads/sponsored urls from other sources/websites; browsing through certain mobile browsers (like Opera mini); accessing non-mobile versions of the sites; accessing the social networking services through downloaded applications rather than browsing to the websites.

(3) This offer is only valid for one week from 00:00:00 hours Saturday 16th April to 11:59:59 PM Friday 22nd April 2011.

(4) Vodafone has made sites free on the basis of the information provided by the site owners which Vodafone has acted upon in good faith.