[Expired]Free 2GB pendrive to every participant in Tata Nano Quiz ( With Answers )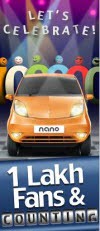 How to participate:-
Click here to go facebook page & like it.
Go to expert quiz if not there & click start quiz
Answer 10 question .
After submitting score you get an email from Tata Nano writting
"Congratulations on scoring ……points in The Nano Expert Quiz! You've just won yourself Nano merchandise. To allow us to send them to you, just send an email to 2012.tatanano@gmail.com with the following details: FULL NAME, MOBILE NUMBER,FULL ADDRESS (with LANDMARK & PIN CODE),CITY
Send An email with all details.
Here are the answers:
1. 624
2. 38
3. 180
4. 51
5. 4
6. 21
7. LX
8. 25
9. 15
10.10