FREE Feather Eye Mask worth Rs.125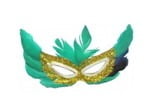 Offer Details :
Dholdhamaka is offering Feather Eye Mask worth Rs. 125 at Rs. 0 (Free) . They will charge Rs. 55 as Shipping charges but it will be waved off using Coupon code
Product Details :
Make a grand entrance at your next party and enchant your fellow party guests whilst remaining disguised behind this glamorous Venetian mask. This Venetian Multicolored Glitter Feather Party Eye Mask is made of good quality feathers.
Click here to visit offer page.
Coupon: HELLODD (FREE Offer to last till 15th July 2013)