Free talk time for tata Docomo Customers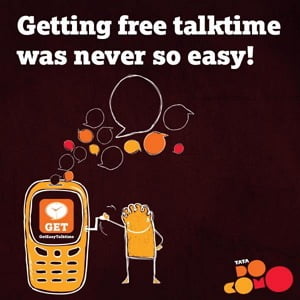 Offer Details :
Tata Docomo introduces GET – GetEasyTalktime, a unique service that gives you a free minute of Local / National talktime for just watching an ad on your mobile phone.
How to get Free talk time on your Mobile:
Just SMS FREE to 53333 (toll free).
You will receive an SMS with a link.
Just click on the link to download the application.
Register by sharing a few details like gender and age.
Once the service is activated, you can avail the free call benefit by making any outgoing call in the normal way – either by choosing the contact from the phone book or dialing through the keypad.
A screen will be displayed giving you the option to make a "Free Call" or a "Paid Call" once you have dialed.
On choosing the "Free Call" option, an ad will be played and subsequently the call will be connected to the recipient. The first minute of the call will be absolutely free of cost.
If you choose "Paid Call", then the call will be connected to the recipient immediately and no ad will be played. No free minute will be credited to your account and you will be charged for the entire duration of the call.