Freebie : Samples Of Veet Streap Ease Absolutely Free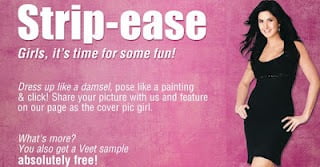 How to get this Deal : 
Click Here to go to Veet Facebook page.
Follow the application adn get the free sample of Veet Streap Ease.
Note: 
Veet India (herein referred as Veet) under the umbrella brand of Reckitt Benckiser (India) Limited (herein referred as Reckitt Benckiser) is organizing Strip-ease initiative, herein after referred to as "the Program" for easy reference;
The Program is valid for all States in India;
The Program is valid from 7/22/2012 to 8/11/2012 (both days inclusive) meaning thereby that the entries will be accepted from 7/22/2012 till 8/11/2012
The participation in the Program is optional & voluntary and does not guarantee any reward; No purchase of any products of Reckitt Benckiser is required. The Program is applicable for limited period only;
The participation age is between 18-25 years old.
The Program is open to all Indian citizens except employees and the family members of Reckitt Benckiser, its Associate Companies, its Advertising Agency and its Media Partners.