Freebie: Sunsilk 7 Days Challenge hair Kit [Offer Started Again]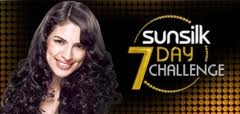 How To Get Free Sunsilk Shampoo And Conditioner:
There are two ways to participate in Sunsilk challenge and get your free sample:
   1. Through Facebook: Visit the Facebook page of Sunsilk Hair Experts and click on the "Sunsilk 7 day challenge" Tab in the right or you can directly go to this Facebook App from Sunsilk to order your free Sunsilk shampoo and conditioner.
   2. Through SMS: You can also order sunsilk kit by sending SMS 'Sunsilk' to 9987799877, after sending the request for the hair kits, you will receive a subsequent SMS requesting you to share your name and postal address.
IMP: This offer is valid till 1st September 2011 only
If you have participated in this challenge and have not received the kit , please send your address to sunsilkhairexperts@gmail.com so they can check their database and track the status of delivery of your kit.