Get 40% Off on movie tickets & 10% Off on food @ Cinemax.co.in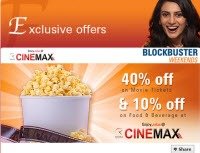 Cinemax is giving free coupon at their facebook page which entitles you to get 40% off on movie tickets & 10% off on food & Beverage. If you are from follwing cities this can be good deal for you.
(Ahmedabad, Bangalore, Baroda, Cochin, Delhi, Gandhinagar, Guwahati, Hyderabad, Kanpur, Kolkata, Malegaon, Mumbai, Nagpur Nashik, Panipat, Pune, Raipur, Rajkot Siliguri  and Surat )
.
How to get this deal:
Click here to Cinemax facebook page and like it.
Go to ICICI Bank deal of the day tab if not there
Enter your moible number in box and click submit to get coupon by sms
Redeem your coupon at www.cinemax.co.in
TERMS AND CONDITIONS
The Promo- Code entitles you 40% off on movie tickets and 10% off on Food n Beverage on a single transaction done on www.cinemax.co.in. Enter the promo-code code in the Offers Page selecting the Promotions tab.
On a given weekend, one code can be generated against one mobile number. Once you get a code and avail your discount, the next code can be generated in the next weekend.
The promo code has to be generated and redeemed on the same weekend itself ( Saturday and Sunday only)
The Offer is Valid only for online ticket transaction made on www.cinemax.co.in till 8th march 2012 across all Cinemax theaters / multiplexes located across India.
Only one promo-code can be redeemed per transaction. The promo-code is to be redeemed on the same show, same day for which the movie tickets are purchased.
The promo-code cannot be exchanged for cash, kind or any part thereof. The promo- code is not meant for sale separately.
The promo-code cannot be clubbed with any other discount offers that are provided by www.cinemax.co.in.
Cinemax and ICICI Bank reserve at any time, without notice to add/ alter or vary any or all of these terms and conditions to replace, wholly or in part, this offer by another offer, whether similar to this offer or not, or to withdraw altogether.
The discount is applicable on a maximum of 4 tickets per transaction.