Kent Ozone Vegetable and Fruit Purifier worth Rs.7000 for Rs.2695 – Amazon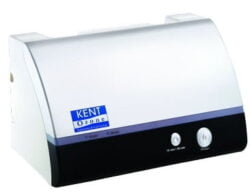 About Product:
The Kent Ozone Vegetable & Fruit Purifier uses the Ozone gas that has the exceptional power to kill bacteria, viruses, fungi and other pathogens. The process also sterilizes the vegetables & fruits and makes the eatables safe for human consumption. The process also helps in cleaning the antibiotics and the remaining hormones in meat, fish & other seafood as well.
Sleek, compact and portable
Employs Ozone Disinfection Technology
Kill bacteria, viruses, fungus and other pathogens
Effectively oxidizes residual chemicals and bacteria from surface of vegetables and fruits
Removes pesticides and insecticides
Cleans out antibiotics and hormones in meat, poultry and seafood
Helps in keeping the Vegetable & Fruit fresh & de-odorized for long time
How to buy Kent Ozone Vegetable and Fruit Purifier :
Click Here to visit the Offer Page for Kent Ozone Vegetable and Fruit Purifier.
Then add the product to Cart.
After that, Proceed to checkout.
Login to your account if already registered; otherwise, create a new account.
Update your Shipping & Billing Address.
Finally, follow the instructions & make the payment.
Shipping is Free on orders above Rs.499 else Rs.40.