Mixer Grinder – Min 35% Off + Rs.300 Cashback + 10% off with AXIS / CITI / IndusInd / Amazon ICICI Credit Card @ Amazon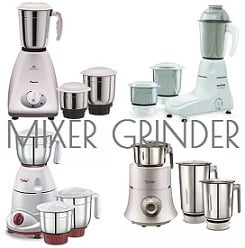 Amazon Cashback Offer:

(Offer Detail) Valid from 22nd Oct to 24th Oct.
Get extra Rs.300 cashback as Amazon Pay balance on min spend of Rs.3,000. Valid on all prepaid orders of Home, Kitchen, Automotive, Sports, Garden, Car, Bike, Industrial Supplies & Furniture. This is in addition to Instant Bank Discounts.
Extra 10% Discount on:

(Valid from 18th Oct to 25th Oct.)
How to buy Mixer Grinder – Min 35% Off:
Click Here to visit the Offer Page for Mixer Grinder – Min 35% Off
Some Best Selling Mixer Grinder:
Preethi Blue Leaf Diamond mixer grinder, 750 watt, 3 Jars
Bosch TrueMixx Joy Mixer Grinder 500 Watt, 3 Jars
Bosch Appliances TrueMixx Pro Mixer Grinder, 750W, 4 Jars
Bosch Pro 1000W Mixer Grinder 4 Jars
Padmini Magnate 1000W Mixer Grinder
Butterfly Opal 750W Mixer Grinder 3 Jars
Inalsa Inara Mixer Grinder-780W with 4 Jars, (3 Stainless Steel Jars & 1 Blender Jar with Fruit Filter)
INALSA Mixer Grinder 1000 Watt, 3 Jar- Aarin with Powerful Copper Motor | 5 Year Warranty on Motor
Maharaja Whiteline MX-220 1000 W Ultramax HD 3 Stainless Steel Jar Mixer Grinder
Preethi Zodiac MG-218 750 W Juicer Mixer Grinder (5 Jars)
Bajaj GX8 Mixer Grinder 750W 3 Jars (5 Yrs Warranty)
Butterfly Mixer Grinder Ruby 750 W 3 Jar
Preethi Zion MG-227 Mixer Grinder with Atta Kneader 750W 4 Jars.
Butterfly Hero 500W Mixer Grinder with 3 Jars.
Sujata Powermatic Plus 900 Watt Juicer Mixer Grinder
Butterfly Jet Elite 750-Watt Mixer Grinder with 3 Jars
Sujata SuperMix SM Mixer Grinder 900 Watt, 3 Jars
Bajaj GX 3701 750W Mixer Grinder with 3 Jars
Then add the product to cart.
After that, Proceed to checkout.
Login your account if already registered; otherwise, create a new account.
Update your Shipping & Billing Addresses.
Finally, follow the instructions to make the payment.
Shipping is free on Order above Rs.499 else Rs.40.