Realme Band for Rs.1499 @ Amazon (Sale starts at 12 PM)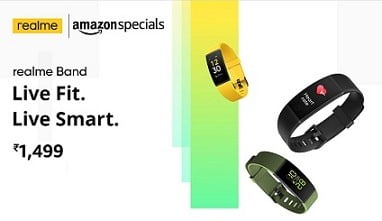 Realme Band at Amazon India:
If you are looking for the latest smart band that is packed with features, shop for the Realme Band online at Amazon India. With functions like large colour display, real time heart rate monitoring, 9 sports modes, sleep quality monitoring, smart notifications, water resistance and more.
The Realme Band gives you an array of attractive features that will leave you stunned. This new smart band comes with a large colour display so that your notifications can be viewed without any hassles. With sleep monitoring capabilities, you will easily be able to track the quality of your sleep with the Realme Band.
Sporty Realme Band at Amazon India
With a water resistant design, you will be able to get 9 different sports modes including the cricket mode. This wearable device is made for tough environments, while looking super elegant when you wear it. Switch on sports modes and track your distance, heart rate, speed and other data with ease.
Never Run Out of Power with the Realme Band
You will be able to track your activities and heart rate in real time and never have to worry about running out of battery as the Realme Band can be charged without wires. With smart notifications, you will be able to view your phone alerts on your smart band.
How to buy Realme Band:
Click Here to visit the deal page for Realme Band.
Add the product in Cart.
Click "Place Order" button.
Login your account if already registered else create new account.
Enter your Shipping & Billing Address.
Rest Follow the instructions & make the payment.
Free Shipping on order above Rs.499 else Rs.40.